What if each of Stein's fierce feminist leaders simultaneously had a prominent seat at the table on the national and world stage? What if all stood up when they were told to sit down? What if all spoke out, when they were told to be quiet? What if…? Just imagine what Wonder Woman would say or do to a victimizer? Change the text-bubbles, as does Stein in her art, to voice upstander concerns.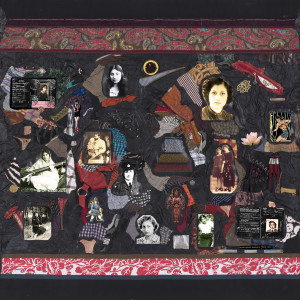 Noor Inayat Khan 813
2014
fabric, archival pigment on canvas, leather, metal, zippers
5 ft. sq.
Click here to see image detail