This site is built in collaboration with the artist, by a team of art curriculum scholars and practitioners with expertise in kindergarten through higher education teaching, museum education, information communication technologies, and social justice education. The purpose is to provide a platform for users to engage in a series of participatory curricular encounters with Linda Stein's art. Choose from these three exhibitions:
Holocaust Heroes: Fierce Females –  Tapestries and Sculpture by Linda Stein (H2F2)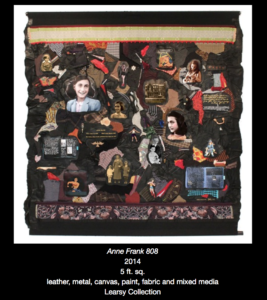 The sculpture for H2F2 includes
Heroic Tapestries, Spoon to Shell Sculptures,
and a
Protector Sculpture
as well as a 7-min film and book. The exhibition represents different aspects of bravery during the time of the Holocaust: Jew and non-Jew, child and adult, World War II military fighter and ghetto/concentration camp smuggler, record keeper and saboteur. Together they represent the many types of female heroism, with war battle gear and without, during the years of the Holocaust. For her 
Spoon to Shell
 sculpture, the artist blended spoon and shell into an amalgam of materials, addressing sexual abuse. 
Protector
 includes a Wonder Woman shadow and becomes a symbol for the brave defender.
Click here to learn more about this series at Lindastein.com
The Fluidity of Gender: Sculpture by Linda Stein (FoG)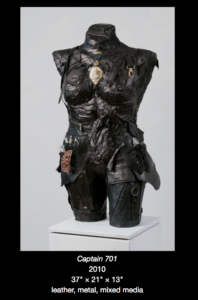 The FoG exhibition explores the continuum between the binaries of masculinity and femininity, while inspiring the compassion, empathy and bravery it takes to become an upstander rather than a bystander. Have Art Will Travel! (HAWT) asks people to re-invent and visualize bravery for themselves, to look at the armor they wear, the safety they seek. The artist says, "with my androgynous forms, I invite the viewer to seek out diversity in unpredictable ways, to 'try on' new personal avatars and self-definitions, knowing that every new experience changes the brain's structure, and inspires each of us to a more authentic self."
Displacement from Home: What to Leave, What to take – Cabinets, cupboards, cases and closets by Linda Stein (DfH)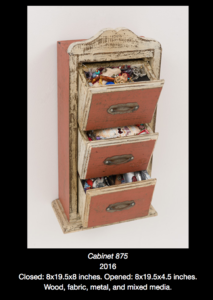 Responding to the issue of migration, which has defined the 20th and 21st centuries with prolonged global flight on a massive scale, DfH is a natural progression of Stein's artistic projects since 9/11, in which she focused on themes of protection and victimization, power and vulnerability. Stein responds visually and viscerally with work that echos heartbreak and hope. Anxiety and affirmation can exist simultaneously or separately: these sculptures contain metaphoric fragments left in the flight from a threatened household, and/or remnants which have been carefully, methodically, and patiently re-contextualized into new surroundings: the safe home. These varied items, significant and quotidian, adored and abandoned, are recalled as moments from daily life: neighborhood, culture – identity. Within each sculpture, there is a paradoxical combination of menace and serenity. One shelf or drawer holds haunting reminders of life, materials worn and rusted or brand new, lying around in unexpected couplings after one might have been forced to rush out the door.
Click here to learn more about the series at Lindastein.com

Participate in our Research: To help the curriculum research team (C-team) to improve the curricular encounters website and to provide evidence of the effectiveness of the website in helping educators teach content based on social justice, we invite you to participate in research for this purpose. Click here